UNIQUE PLACES
Remarkable places in Karpenisi you should visit
Embark on a fascinating journey as you explore some of the most emblematic places in Karpenisi. Immerse yourself in the beauty of the area that blends natural scenery with rich cultural history. From a charming gorge to an artificial lake and orthodox monasteries, the Karpenisi region promises to fill your days with exciting adventures.
Moni Prousou
If you seek a landmark that combines tranquility with gorgeous surroundings and spiritual history, Moni Prousou is a must-visit during your vacation. Located just 18 km away from Natura Chalets, on the edge of a steep cliff, this monastery is one of the most important Orthodox pilgrimages in the world.
What makes it so unique is that it is home to the miraculous icon of Panagia Prousiotissa, crafted by Luke the Evangelist. Wander around the facilities, admire the religious relics that are exhibited in its museum, and take in the glory of nature that unfolds before you.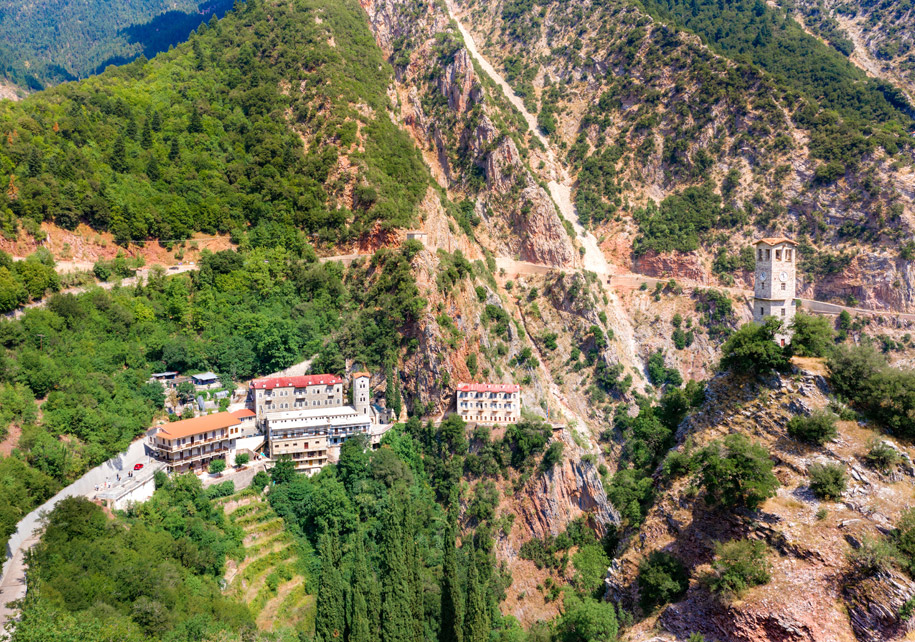 Panta Vrechei Gorge
Explore a captivating natural wonder that will reward you with its raw beauty. Nestled 20 km from our accommodation, in the southern part of Karpenisi district, Panta Vrechei Gorge invites you to appreciate its gifts.
Hop on a jeep to approach the area and then do river trekking to reach the sight, where you can embrace the stunning scenery. Be enchanted by the lovely waterfalls along the path that don't have a compact flow but drip, creating a constant artificial rain - the reason behind the naming of the gorge.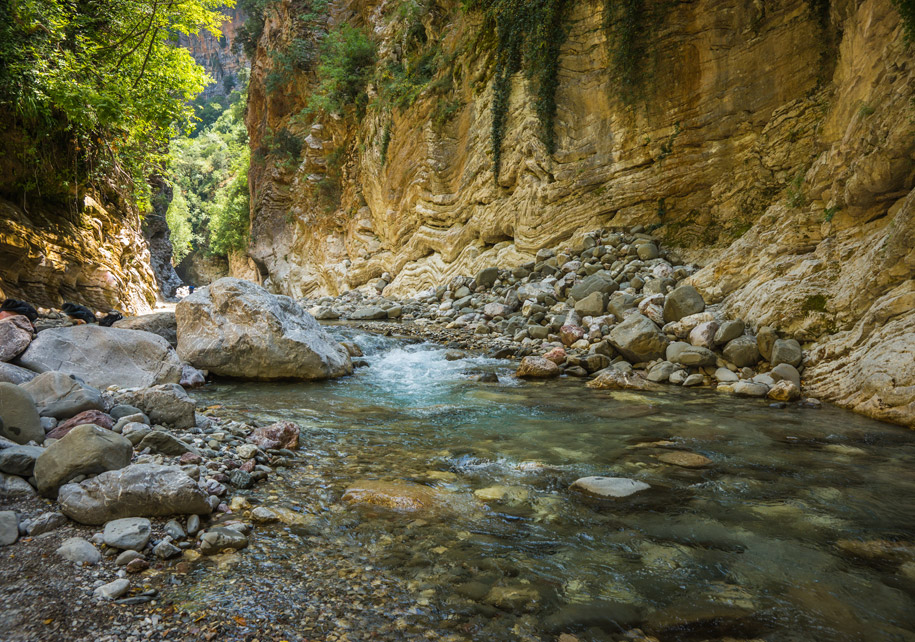 Kremasta Lake
Discover the charms of the largest and most beautiful artificial lake in Greece. Situated 47 km from the chalets, Kremasta Lake was created in the decade of 1960, transforming the lives of the local residents and making it one of the go-to places for nature lovers.
Marvel at its turquoise waters and enjoy panoramic views of the numerous isles and fjords that compose a one-of-a-kind landscape. Visit the famous "Bridge of Manolis" and the monastery of Tatarna.