Experience tranquility and rejuvenation in Natura Chalets
Escape to serenity with a stay at luxurious chalets in Megalo Chorio
Uncover your perfect retreat at Natura Chalets, a complex of alpine-style wooden chalets in Megalo Chorio. Nestled amidst nature and surrounded by imposing mountains that offer splendid views, the accommodation creates the ideal scenery for decompressing with your family.
Designed with your utmost comfort in mind, it features high-end amenities and exceptional service that upgrade your holiday experience. Sit back and relax as you listen to the sounds of nature from the privacy of your veranda.
Alternatively, take advantage of the exquisite location to explore beautiful sights, enjoy outdoor activities, and create cherished memories.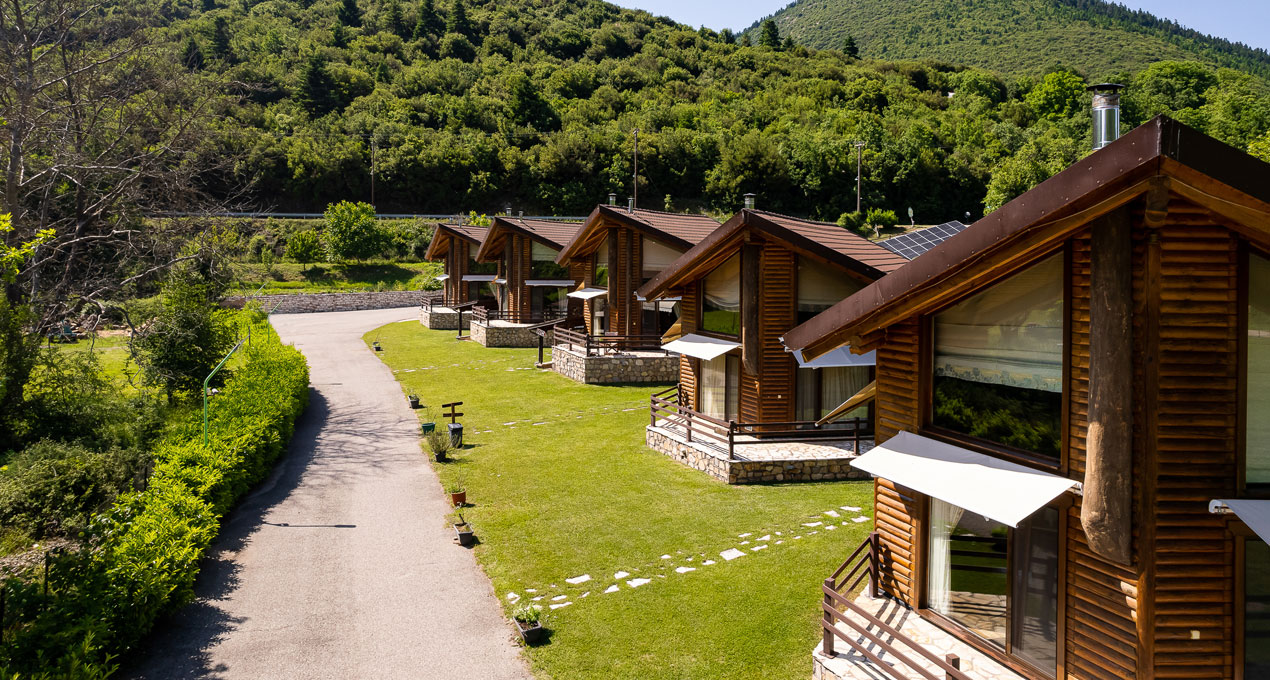 Revel in the luxury of autonomous chalets in Megalo Chorio
Indulge in the warm and cozy ambiance of our fully equipped maisonettes that have everything you might need for a blissful stay. The spacious chalets can easily accommodate 4 persons and showcase a wide range of amenities, from a stone fireplace to an indoor shower with hydromassage columns and even a sauna.
Make yourself instantly at home as you settle into their comfortable spaces. With half board upon communication, a private balcony, and kids-friendly facilities available on the exterior, you are sure to relish an unforgettable vacation.
VIEW THE CHALETS
Explore the gems of Karpenisi
LOCATION

Explore what makes the area of Karpenisi so unique. Discover a must-visit destination that blends natural beauty with serenity and various activities.

UNIQUE PLACES

Discover the most worth-visiting places in Karpenisi. Find the best attractions you should not skip while on vacation, from gorges to an artificial lake.

ACTIVITIES

Discover the most exciting activities in Karpenisi that you should not skip. Explore the variety of options available and spend fun time with your loved ones.
Unforgettable stay! We will definitely go again!
An excellent place for families, with plenty of amenities and outstanding cleanliness! The breakfast was abundant and offered many homemade delights! As for the hospitality, it was impeccable! The owner was very courteous and took great care of us!
Excellent
Incredible chalet in an amazing location. Thank you for the warm hospitality and the perfect experience. We will definitely come again!
We highly recommend it, and we will surely stay there again!
Everything was marvelous, the chalet, the breakfast, and the dinner we had arranged. Mr. Periklis, the owner, was extremely courteous and helpful, just like the rest of the staff.